Doubts emerge over Duggan shooting as London burns
Initial ballistics tests suggest bullet lodged in officer's radio during incident in Tottenham was police issue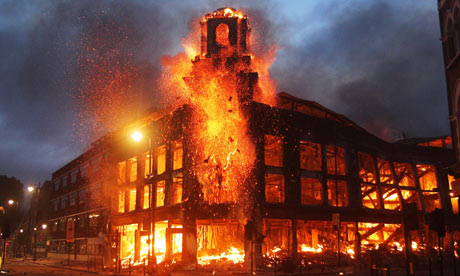 Doubts have emerged over whether
Mark Duggan
, whose death at the hands of
police
sparked the weekend's Tottenham riots, was killed during an exchange of fire .
The Guardian understands that initial ballistics tests on a bullet, found lodged in a police radio worn by an officer during Thursday's incident, suggested it was police issue – and therefore had not been fired by Duggan.
On Saturday night 26 police officers were injured, eight requiring hospital treatment, in clashes with around 300 rioters in Tottenham that saw buildings and vehicles torched, shops looted and residents forced to flee their homes.
Police have arrested 55 people as a major investigation began into the escalation of violence, which followed a peaceful demonstration to demand "justice" for Duggan, 29, a father of four shot dead on Thursday evening after being stopped in a taxi near Tottenham Hale. The Independent Police Complaints Commission (IPCC) has launched an inquiry into the shooting.
Initial reports from the IPCC were that during an apparent exchange of fire police officers from C019 fired two shots and Duggan died at the scene. The suggestion was that officers could have come under fire from a minicab carrying Duggan. Much of this assumption came from the fact that a bullet had lodged in a police radio worn by an officer at the scene – raising speculation he might have been fired at from the vehicle. A non-police issue handgun was also recovered at the scene where Duggan was shot dead in Ferry Road.
The latest developments come as one community organiser suggested the handgun recovered was found in a sock and therefore not ready for use. It is likely to fuel anger on the streets of Tottenham and elsewhere in
London
if it provides evidence that officers were not under attack at the time they opened fire on Duggan.
The IPCC said on Sunday: "We await further forensic analysis to enable us to have a fuller and more comprehensive account of what shots were discharged, the sequence of events and what exactly happened. In the meantime we would request people are patient while we seek to find answers to the questions raised by this incident."
Gutted buildings were still smouldering in Tottenham on Sunday evening. Firefighters dealt with 49 primary fires receiving 264 999 calls between 9.30pm on Saturday and 4.30am on Sunday.
Two police cars and a double-decker bus were set alight. Three people required hospital treatment.
In the chaos, brazen looting took place. Shop fronts were smashed in Tottenham Hale retail park as looters loaded car boots and trolleys with electrical goods, mobile phones, shoes and clo thing. Looting spread to Wood Green, where it continued until at least 5.30am.
Community leaders said they warned Tottenham police immediately before Saturday's rioting that a peaceful
protest
over the fatal shooting could get out of control. More than 100 people who demanded to see a senior officer at Tottenham police station feared that if they were still there by nightfall it could cause problems in an area with tensions running high.
Stafford Scott, a community organiser who accompanied the family of the shot man, said: "If a senior police officer had come to speak to us, we would have left. We arrived at 5pm, we had planned a one-hour silent protest. We were there until 9pm. Police were absolutely culpable. Had they been more responsive when we arrived at the police station, asking for a senior officer to talk with the family, we would have left the vicinity before the unrest started.
"It is unforgivable police refused dialogue. We know the history here – how can Tottenham have a guy killed by police on Thursday, and resist requests for dialogue from the community 48 hours later?"
There were also claims police were warned on Thursday night and Friday morning by people with knowledge of Tottenham there could be "significant" community reaction to Duggan's death.
Duggan's fiancee, Semone Wilson, 29, said the family had not wanted trouble, only answers. "When we were outside the police station last night we wanted someone to come out. We want some answers. I have not even told my children that he is dead because we cannot give them any answers." Of the violence, Wilson said: "I am not happy about what has happened. We didn't want this trouble. We wanted some answers."
Shaun Hall, Duggan's older brother, said the family was "not condoning any kind of actions like that at all, or for this [action] to be taken in my brother's name". He appealed to people in the community who were frustrated and angry to "try and hold it down".
Members of Duggan's family had been part of the peaceful demonstration to the police station in Totttenham on Saturday.
On Sunday night thousands of police officers were drafted in from Thames Valley, Kent, Surrey, Essex, and City of London, ahead of the fresh outbreak of violence. Tottenham MP David Lammy said the community "had the heart ripped out of it" by "mindless, mindless people", many of whom had come from outside Tottenham. He added: "There are questions about the nature of the escalation of this violence last night, and the nature of the policing that led up to it."
Downing Street called the rioting "utterly unacceptable". Home secretary Theresa May said: "Such disregard for public safety and property will not be tolerated."
Forensic examiners were slowly and painstakingly working their way through the
crime
scene as part of the police investigation codenamed Operation Withern. Officers from the homicide and serious crime command, and specialist investigators from the public order branch were reviewing CCTV footage and taking witness statements.
A series of crisis meetings was held at Scotland Yard as acting commissioner Tim Godwin and other senior officers assessed the damage, and how the force had been "taken by surprise" over the swiftness and scale of its loss of control of the streets.
Metropolitan police
commander Adrian Hanstock said they had "not anticipated" Saturday's level of violence. "Last night's peaceful demonstration was hijacked by a small number of criminal elements, who used that for their own gain. Duggan's death was "extremely regrettable" and subject to an IPCC inquiry, he said.
Asked if police were undermanned, he said: "We kept a very dignified presence at the vigil [by Duggan's family]; there was no indication that there would be anything other than a peaceful demonstration. The level of violence escalated absolutely disproportionately".
IPCC Commissioner Rachel Cerfontyne met Duggan's relatives on Sunday. She said: "Speculation that Mark Duggan was 'assassinated' in an execution style involving a number of shots to the head are categorically untrue. Following the formal identification of the body Mr Duggan's family know that this is not the case and I would ask anyone reporting this to be aware of its inaccuracy and its inflammatory nature."
She went on to appeal for calm and added: "The distress that Mr Duggan's family are in the midst of is understandable but the violence and disorder we have witnessed over the last 24 hours can never be acceptable."
Residents, driven from their burning homes, had lost everything. Stuart Radose had to flee his flat above a Carpetright shop in Tottenham High Road as fire ravaged the building. "We've gone back this morning and it's a complete shell," he told Sky News. "Everything we had is gone. It's just mad. So many people have lost everything. It's just crazy. It looks like it's the second world war. It looks like the Blitz where we were living."
He said he had watched from his balcony as "things were getting worse and worse". "There didn't seem to be a police presence at all," he added. "Buildings seemed to be allowed to burn. I guess they couldn't get there.
"I think we've probably spent our last night in Tottenham. We're just in shock."
Timeline
4 August, 6.15pm
Police shoot dead a 29-year-old man in Ferry Lane, Tottenham, who had been travelling in a minicab. He is named as Mark Duggan, a father of four. Officers stopped the cab to carry out an arrest as part of a planned operation, according to the Independent Police Complaints Commission.
6 August, 5.30pm
About 120 people march peacefully from Broadwater Farm to Tottenham police station, demanding "justice" for Duggan's family. The high road is closed and traffic diverted.
6 August, 8.20pm
Two police cars parked about 200 yards from the police station are set alight. Riots break out in which windows are smashed, a petrol bomb thrown, and buildings set on fire. A double decker bus is also set alight. Police try to break up the crowd but bottles and other missiles are thrown at them.
7 August, 3am
A group of teenagers and adults loot almost all the stores in Tottenham Hale retail park half a mile away. Shop windows and doors are smashed in and the shops were raided. Police say one officer has been taken to hospital and seven others injured. Seven more officers were later taken to hospital. A total of 26 officers are injured during the unrest and 42 people are arrested for offences including violent disorder, burglary and theft.
7 August, 11.15am
Local MP David Lammy, speaking from behind the police tape on the High Road, calls for calm. Crowds gather at the police cordon, some still angry with the police, others with the rioters.
7 August, 12.30pm
Metropolitan Police commander Adrian Hanstock condemns the riots as "absolutely unacceptable". He says a peaceful demonstration has been hijacked by a small number of "criminal elements" using it for their own gain.
source:
http://www.guardian.co.uk/uk/2011/aug/07/police-attack-london-burns